In automatic and unattended machining, it is imperative to detect the broken tool
when it take place. If it's undetected, a huge loss of cost will be caused from such 
as scrap parts, machine's damage and downtime.  It can be easily installed with the 
machine at an affordable cost, and can detect the breakage of drill, tap and reamer.
The sensor is bracket-mounted close to the tool easily and conveniently.
A needle is arranged in different length and can be bent so that the sensor would be 
installed near by the tool flexibly even though the space around he tool is tight and
 limited.  Controller is installed in the machine tool cabinet.
---
■High sealing performance (IP67)
■Small dia. of tool, 1.0mm or below, can be detected.
■Model:PCS-100 w/SCU-100  PCS-250 w/TCU-250
Contents of PCS-100 system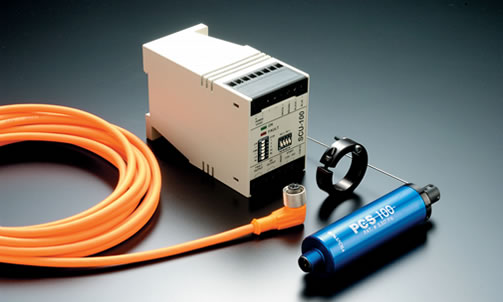 ●Contact Sensor PCS-100
 with Needle Assembly
●Controller SCU-100
●Connecting Cable (STD:5m)
 with L90 Connector
●Clamping Collar



Contents of PCS-250 system
●Contact Sensor PCS-250 
 with Needle Assembly
●Controller TCU-250
●Connecting Cable(STD:5m)
 with L90 Connector
●Clamping Collar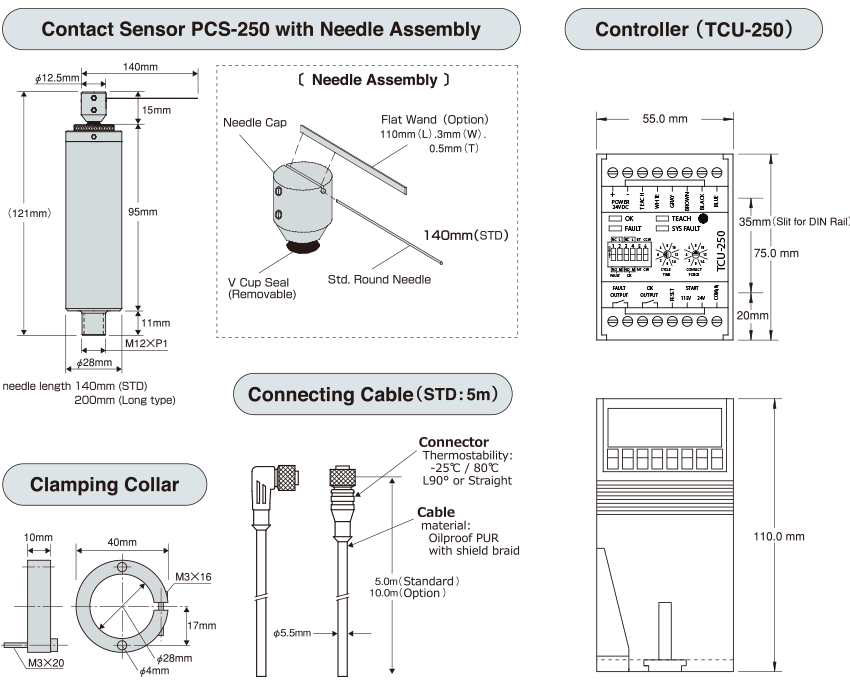 Specifications
PCS-100 Contact Sensor
PCS-250 Contact Sensor
Housing
Anodized Aluminum
Same as PCS-100
Needle swing
Swing Angle 5-175°mechanically adjustable
Electronically learned swing Angle up to 300°.
Completely diagnostic system.
Needle
Max Life needle in standard length 140mm,
Long needle 200mm (Heat-Treated)
Same as PCS-100
Motor drive
Direct Drive (No Gear Box) DC motor
Same as PCS-100
Sealing
Sealed against liquid and solid contaminants.
Rating IP-67
Same as PCS-100
Cable
90°or straight, moulded 4 pin connector.
Standard length 5M (Max. 50M)
Same as PCS-100 (except 5 pin connector)
SCU-100 Controller
TCU-250 Controller
Operating voltage
24VDC
Same as PCS-100
Max.current
250mA
Same as PCS-100
Operating Temp.
0-55℃
Same as PCS-100
Housing Material
Polycarbonato
Same as PCS-100
Max.wire size
12AWG
Same as PCS-100
Mounting
35㎜ DIN Rail
Same as PCS-100
OK Fault relay
Dry Contact  (Contact Rating)
Same as PCS-100
Additional Functions
Changeable to reverse logic for space monitoring
Remote teaching terminal as well as teach button equipped.
Normal Tolerance-NT / Extended Tolerance-ET Select Swich.